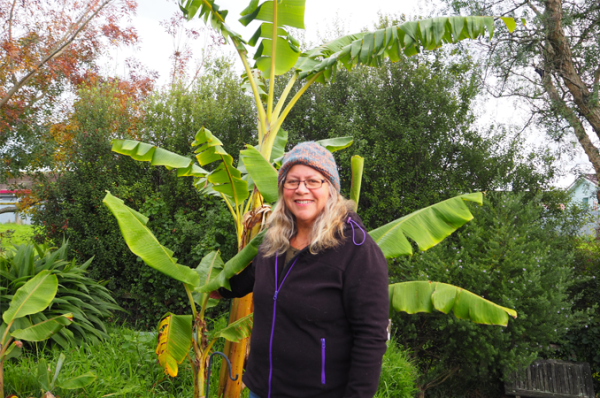 Bananas are one of the most popular fruits in New Zealand, with more than $220 million worth of bananas imported annually to satisfy the demand. The fruit is typically grown in warmer climates, but it's been noted by a visiting Australian expert that with New Zealand's longer daylight hours and the option of growing under covers, the results can often be just as good, while also offering unique Kiwi flavours and characteristics.
"Once they are established, they grow quickly when it's warm enough (over 14degC)," says AgResearch scientist Dr Jane Mullaney.
"They are generally very tolerant of drought, with what is described as vertical water storage holding much of their water in the stems. Unlike some plants, you don't have to keep planting again every year."
The AgResearch scientists used in-house technologies to sequence the DNA and identify origins of and variations in New Zealand-grown bananas. They produced new plants through tissue culturing in the lab to create opportunities for growing trials in different regions and communities. They can also see opportunities for unlocking components of local bananas with defined health properties.
Dr Mullaney says the work began with she and fellow scientists partnering with Gisborne-based growers Tai Pukenga, led by Trevor Mills and Laurie Te Nahu, with the assistance of funding from the Ministry of Business, Innovation and Employment. Fruit is not the usual domain of AgResearch scientists, but in this case, some existing relationships and relevant expertise lent itself to the work.
"In places like Gisborne and Northland, the bananas were already being snapped up as fast as they could grow them."
The initial role of the scientists was to bring their expertise in DNA sequencing to learn more about the bananas already being grown in New Zealand, and where they might be able to grow. What they soon found was that their work with the Gisborne growers and other experts was leading to new connections with communities throughout New Zealand, particularly Māori communities, which were interested and wanted to get involved in growing.
"Our forage team at AgResearch has well-established expertise through plant breeding programmes. We were able to take the banana plant tissue and start growing it in an incubator, and from one stem you can generate plants that can, in turn, grow to thousands of plants," Dr Mullaney says.