Māori students taking science under graduate courses can apply for one of the four Maori Summer studentships offered by AgResearch each year. Since the summer of 2009 AgResearch has supported 27 students with this internship. Louise Hennessy, of Ngāti Maniapoto descent, is a recent recipient. She credits the scholarship with encouraging her to stay within agricultural science as she furthered her study.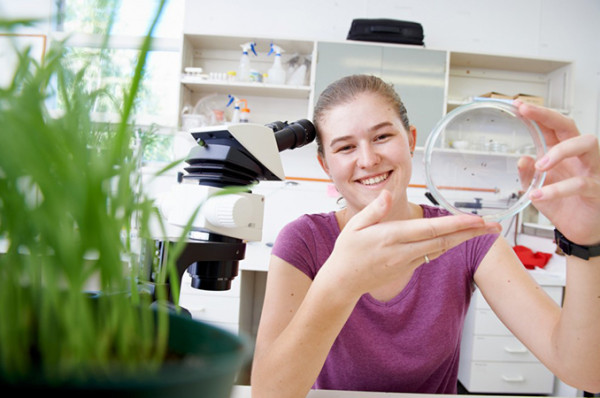 "During the summer of my Māori summer studentship I worked with ryegrass pest insects and studied interactions between ryegrass, insects and endophytes," she says.
"I loved this area of research so much that I then completed a Masters of Science at AgResearch through the University of Waikato and earlier this year I begun a PhD with AgResearch and Lincoln University. My PhD topic is looking at olfactory and behavioural responses of two ryegrass pests to odour compounds produced by endophyte-infected ryegrass."
Recently Louise spread her enthusiasm for agricultural science to youth with a passion for science as a keynote speaker at the 2016 DairyNZ Year 13 Science Career Day and at the recent National Agricultural Fieldays at Mystery Creek where she spoke about her science career to 60 students from Westlake Boys' High School and Otahuhu College.
"Our aim was to open student's eyes to all of the career pathways available in science and in particular agriculture," says Louise.
"I loved having the opportunity to talk to young people who are making important decisions about their future study and been able to share with them my passion for this industry and the science discipline. I just wish this experience had been available for me when I was at high school!"
The unique perspective Māori bring to science is supported within AgResearch, both in science and strategy.
A recent Board initiative has seen Chris Koroheke, the Portfolio Leader of Māori Agribusiness, joining the AgResearch Executive Team as Kaiurungi Ahuwhenua Māori (the navigator of a voyaging waka), to reflect the increasing role of Vision Mātauranga in AgResearch's work. In this new role Chris will spend 20% of his time bringing an important Māori perspective to the Executive Team's discussions and decisions.
AgResearch's Dr Selai Letica, who is of Ngāpuhi and Ngāti Porou descent, has been based in the Invermay campus in a number of Land and Environment science roles and has recently taken on the role of Stakeholder Relationship Manager - Māori Agribusiness.
"In my early science career agricultural environmental science appealed to me because it meant that I was working where I could have a real impact on the New Zealand environment," she says.
Prior to her current role Selai had undertaken research in the spatial distribution of N2O emissions and N2O mitigation efficacy in Southland dairy systems, joining agricultural co-innovation approaches to research with Māori entities. Her current role has her working across all science areas at AgResearch, connecting with stakeholders and encouraging scientists to consider how they could make their science impactful for Māori enterprises.
"Between science and business, particularly Māori enterprise, there has to be some give and take," she says.
"The reason science works is that it is disciplined by nature, but that doesn't always work for business; they don't have the luxury of waiting for perfection. An important part of my role is encouraging science to think about how we can make quality science fit with the needs of both parties.
Selai says that we need more Māori working in the "science machine", not only to redress the disparity between Māori population demographics and these demographics in scientific institutions, but to encourage the unique perspective Māori bring to science.
"When Māori see others working in these roles and making a difference for our people it is greatly encouraging," she says.
"Plus we have a holistic, consultative approach that adds to AgResearch's ability to deliver quality, impactful science."